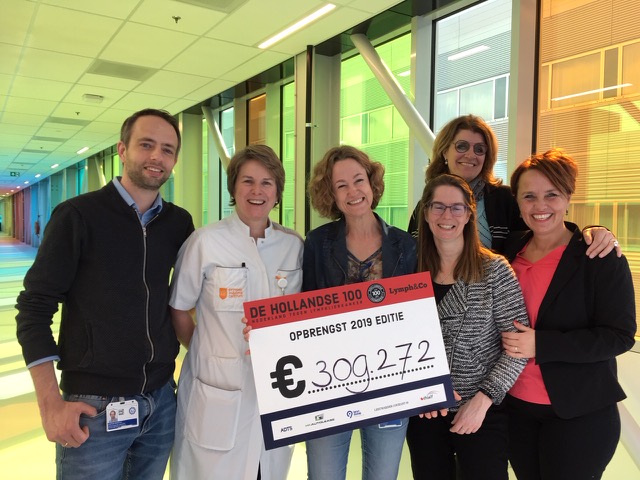 Meyer-Wentrup, "Prince Bernhard junior, the king's cousin, set up the Lymph&Co Foundation to support lymphoma research. We already had a small pilot project that produced interesting results. We then submitted a larger research proposal to Lymph&Co. There were eleven participants and our project was the only one that was awarded a grant in excess of €300,000."
Research
"We are looking for pieces of protein (peptides) that are specific to B lymphomas and that we can use to vaccinate patients. First we have to find the right peptides and then see whether they can be used to trigger an immune response. We are currently testing it in vitro and not yet on patients. I'm working on this with two immunologists: Boes and Peperzak of the UMCU. We have done a pilot project and are soon going to hire a full-time researcher (trainee research assistant), who will start on the project within a few weeks."
Biobank
"We're isolating DNA material from paraffin blocks for examination, so you can also use material that is already with the pathologist. That's pretty elegant, because that material is already available." The researchers request material for this from the biobank at the UMCU (location AZU), and also receive material from other pathologists. "We're investigating B-cell Non-Hodgkin's lymphomas. The lymphoma comes from one precursor cell per patient. You can map the DNA of the variable components of the B-cell receptor and each B cell then has its own region, which is characteristic of each tumor. That's a perfect antigen for vaccination. This variable region is the same per patient in all lymphoma cells and is therefore an ideal starting point for therapy."
Lymphoma
"The lymphoma cell itself contains the B-cell receptor, which contains a variable region and is specific to the lymphoma. It can recognize a T cell. If you then activate the T cell, it can attack the lymphoma. That's a classic approach. We're going to look at a whole series of pediatric lymphomas for the first time."
Collaboration
Friederike concludes, "The close collaboration between the Máxima and the Laboratory for Translational Immunology of the UMCU is very effective. I had money for the pilot project and the results allowed us to set up a large project with funding. We're pretty proud of that!"
More info:
F.Meyer-Wentrup@prinsesmaximacentrum.nl